Click on the following link to see animation of Air Bag Cushioned Carriage Actuator:
Link to Actuator Animation This is a 3.25" bore cylinder with oversize rod and an integral air bag cushion feature for high shock applications such as log carriages featuring:

4.25" stroke air cushion


very low maintenance


absorbs shock load from knees to reduce stress and wear and tear on carriage frame, wheel bearings and track


also available are spherical bearing equipped rod eyes and custom designed trunnion bracket assemblies


highly recommended for log diameters of 36" and greater

PRINCIPLE OF OPERATION:
The Sharpe air bag cushioned hydraulic carriage actuator makes use of the fact that air is compressible and is less resistant to flow than hydraulic oil. Even high speed hydraulic pressure reliefs can not react fast enough to prevent the log loading shock from being passed through to the carriage frame.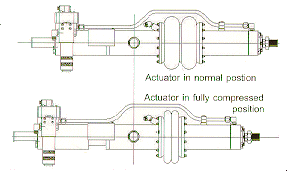 Click drawing for larger view.
When a log hits the carriage knee, the air bag begins to collapse instantly when a force of 4600 lbs (air @ 100 psig) is felt by the actuator. Simultaneously, energy is dissipated as air is relieved from the air bag through the air pressure regulator. The "firmness" of the cushion action can be adjusted (via the pressure regulator) to suit the range of log sizes being sawn.

The entire knee and hydraulic cylinder move during the cushioning and return against a hard urethane stop to ensure repeatability of the setworks. Unlike a hydraulic relief, the air bag will cushion even if the piston/rod/knee are fully retracted such as when very large logs are to be loaded.

OTHER AIR BAG CUSHIONED APPLICATIONS:
Also available are air cushioned actuators using a 2.5" bore hydraulic actuator to position pressrolls on Chip 'N' Saw style infeed systems. These allow tracking of a log profile with the hydraulic actuator. Force control and floating of the pressroll over log surface irregularities is achieved with the air cushion stroke. These actuators have also been used on edgers for prepositioning and force control of the pressrolls.

| | | |
| --- | --- | --- |
| Click image to see animation of a 2.5" bore air bag cushioned actuator. | | Click drawing for larger view. |
Click HERE to see short videos of 2.5 inch bore air bag cushioned actuator in action on Chip N Say style log line turn control on infeed.

Click HERE to see short videos of 2.5 inch bore air bag cushioned actuator in action on Chip N Say style log line pressrolls.

SHARPE SYSTEMS CORPORATION
109-7311 Vantage Way, Delta, BC Canada V4G 1C9
(604) 946-2844 Fax 1-866-841-5138 (toll free in North America) Email Sharpe